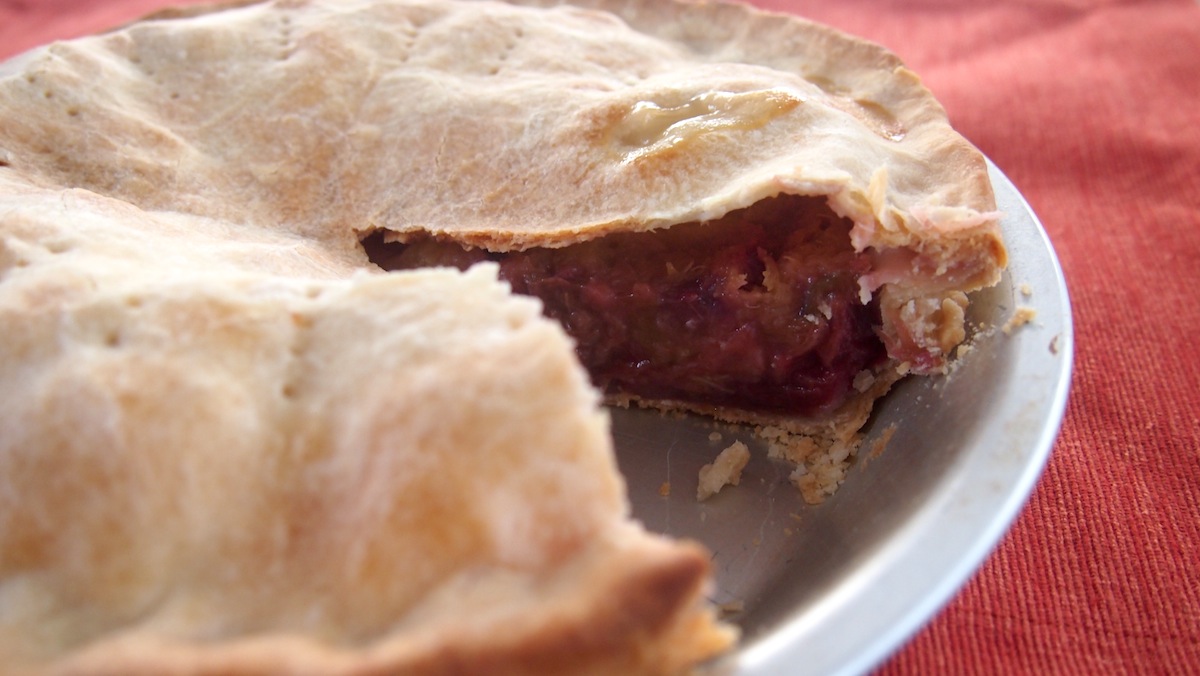 My grandma made the best rhubarb pie. The best. It was tart and absolutely full of wonderful rhubarb flavor. No strawberry to get in the way of tasting just pure rhubarb. Or at least I thought it was pure rhubarb. It wasn't until very recently that I was informed that grandma added something else to her rhubarb pie. Most people are surprised when they hear what it is.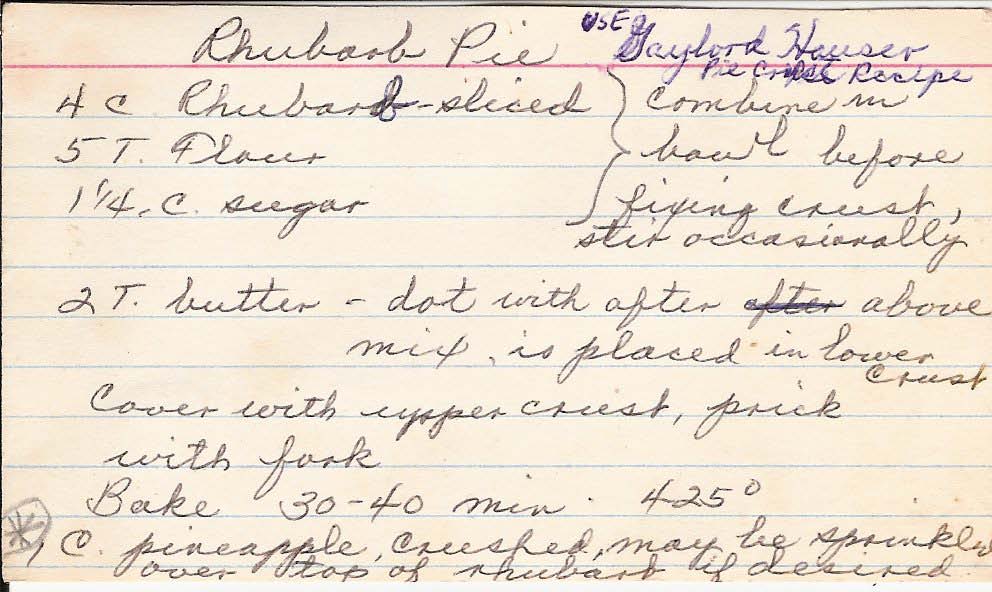 Pineapple. It turns out that pineapple gives the rhubarb just enough boost in sweetness without making it cloying or changing the texture. The fibers of the pineapple become one with the rhubarb's and the bubbling juices of the rhubarb color the pineapple so you can't really see it unless you're really looking.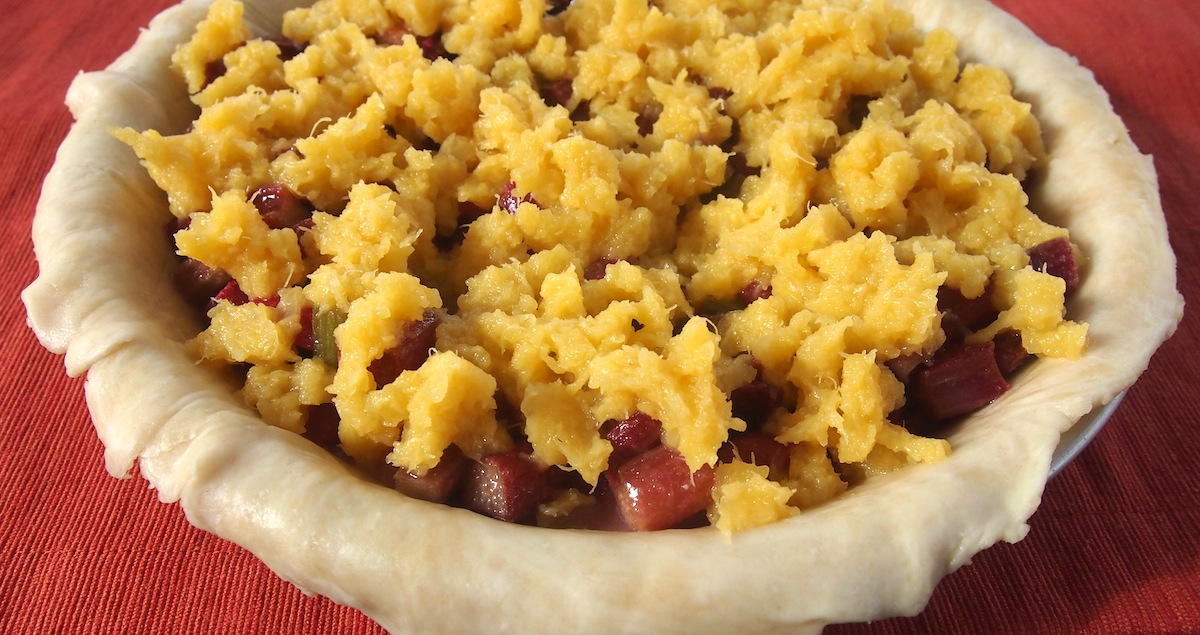 The absolute best part of making this recipe was when I took the first bite. It tasted exactly like my memories. I was transported back to birthday celebrations and holidays at grandma and grandpa's house. My assigned seat was always at grandma's left, upfront and center for the division and distribution of dessert. I saw many slices of bundt cake and scoops of apple crisp pass in front of me, but the wedges of rhubarb pie were always my favorite. Serve this with vanilla ice cream for full effect.  I doubt you'll miss the strawberries.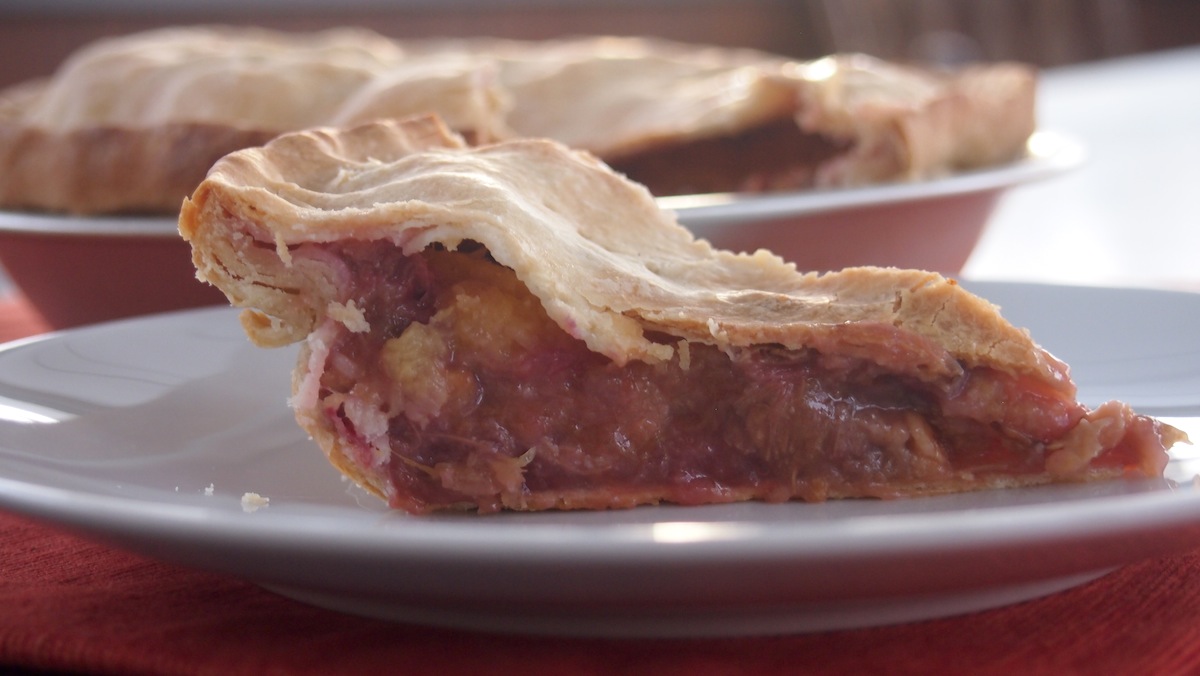 Rhubarb Pie
4c (or more) sliced rhubarb
5T flour
1 1/4c sugar
2T butter
1c crushed pineapple
1 double pie crust (see below)
Directions
Combine rhubarb, flour, and sugar in a bowl before preparing crust. Stir occasionally so that the liquid drawn out of the rhubarb mixes with the flour and the sugar.

Prepare crust.
Add rhubarb mixture to the bottom crust and evenly distribute pineapple on top.
Dot with the butter.
Add top crust and poke with a fork to allow steam to escape.
Bake at 425° for 30-40 minutes.
Pie crust
1/2c oil
1/3c water
3/4t salt
2c flour
Directions
Combine the oil, water, and salt in a bowl.

Add flour and quickly mix together using a fork.
Divide dough into two equal portions and form into balls.
Roll out between two sheets of wax paper.