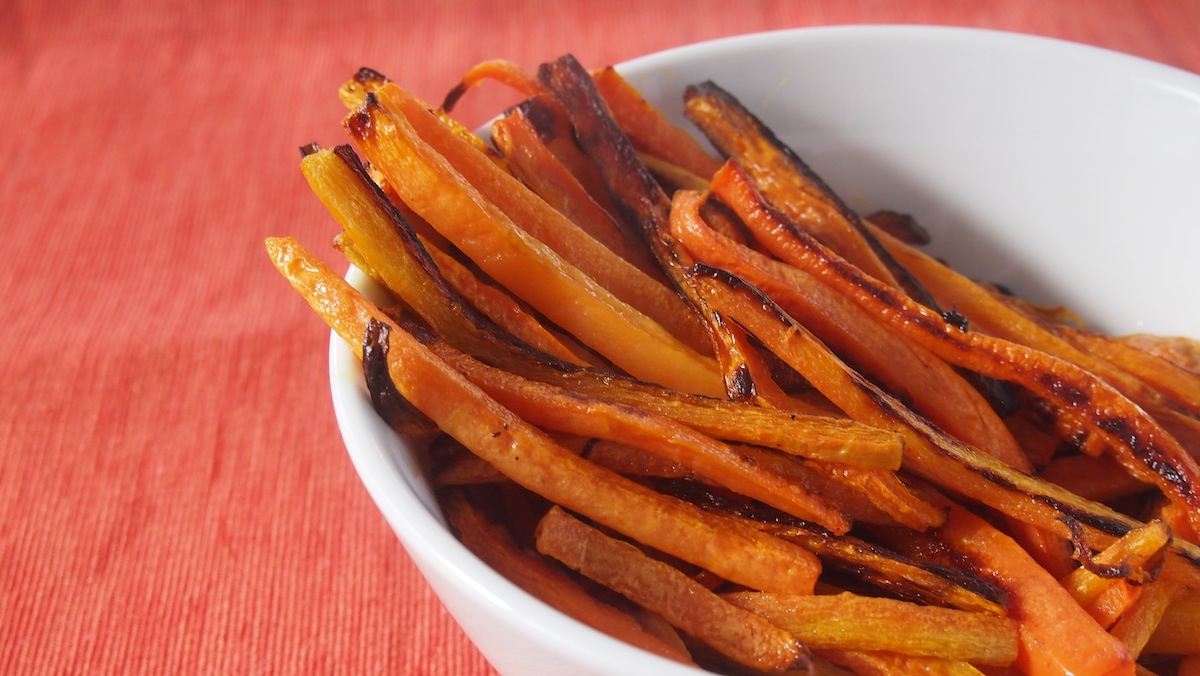 What's that? You've never heard of carrot fries? Really?* I hadn't heard of them until a friend mentioned that she had made them recently and her kids and mine had scarfed them up. I'm a huge fan of carrots. Huge. When I was little, it was perhaps the only vegetable I really enjoyed (but only if they were raw!). It being winter, I was interested in another way of preparing them. Since I was planning on making grandma's stuffed hamburgers anyway, I knew I would give them a try.
If you've ever roasted root vegetables, you know this song. You cut the vegetable into pieces of the same size, lightly coat with oil, sprinkle with salt, and pop into a screaming hot oven for a short time. The high heat turns the outside golden and delicious while the inside becomes tender. Carrots are so naturally sweet that the sugars caramelize and taste amazing.
In retrospect, I think I would have preferred these to be more steak-fry shaped. I think they may have held up a little better, too. Definitely a winning idea and flavor.
Carrot Fries
2 pounds carrots
2T olive oil
Salt to taste
Directions
Slice carrots into the size and shape of fry that you like best.

Toss with oil and salt.
Put in a single layer on a sheet pan.
Cook in a 425° oven for 20-30 minutes, until outside is nice and caramelized.
*If you've heard of carrot fries, feel free to be smug about it.