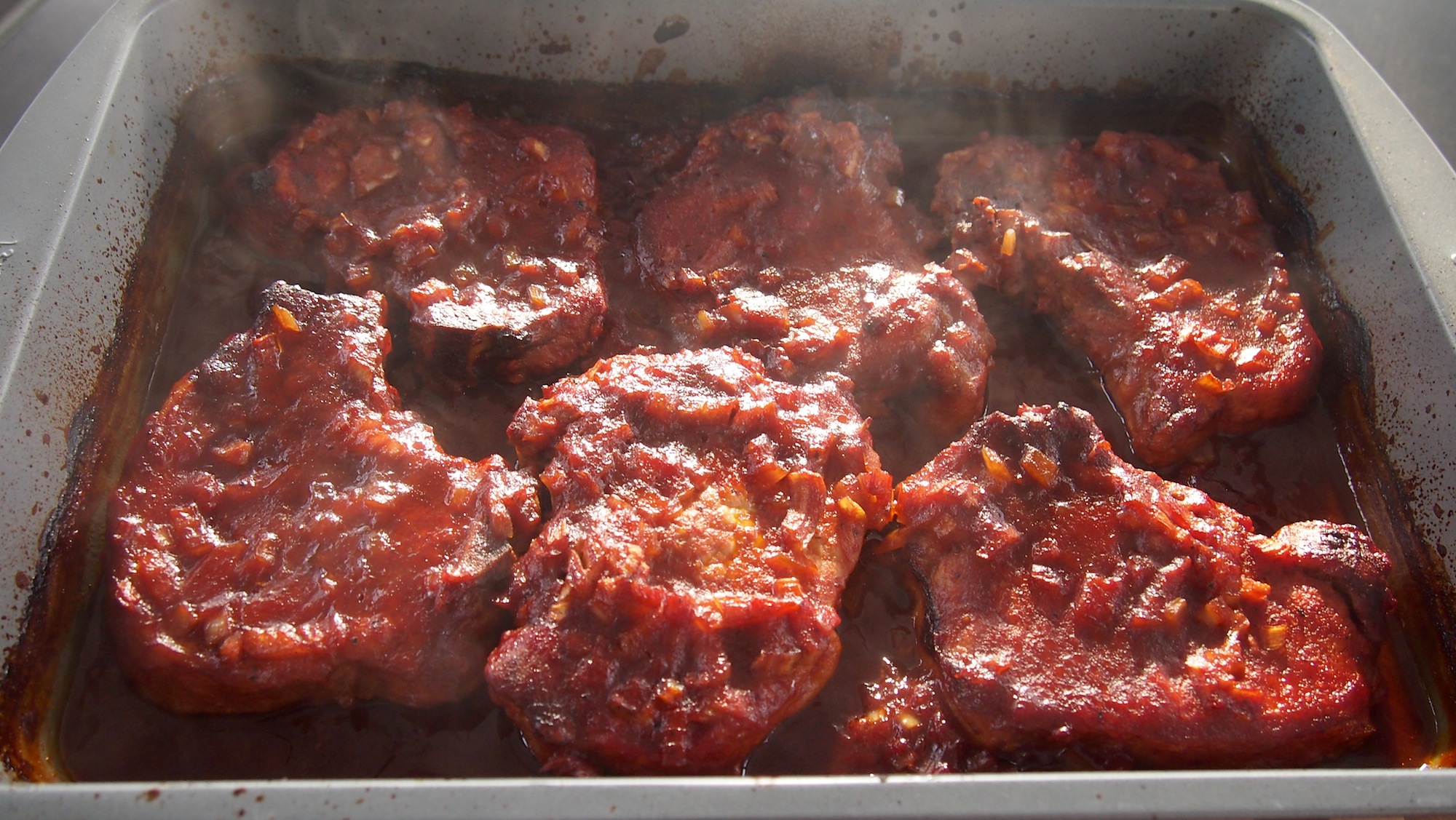 This was a dish that was a true favorite of one of my uncles. He says:
I also loved Barbeque pork chops. On our birthdays, Mother would often ask us what we might want to eat for the meal. I very clearly remember Mother asking me one year on my birthday, when I was about 12 or so, what I might want to have for the family birthday meal. I immediately replied, barbeque pork chops.  I was quite disappointed when Mother said that it was too hot to have them. I was so surprised to hear that. It had not occurred to me that with the temperature in the 90's that day, July 12, that working in a hot kitchen cooking meat, in a house without air conditioning, might be a difficult thing.
Today wasn't too hot to be in the kitchen. It's spring in Minnesota (or "second winter") and there are still piles of snow on the ground and the highs are barely above freezing. Having the oven on a long time for a low and slow cook time was just perfect.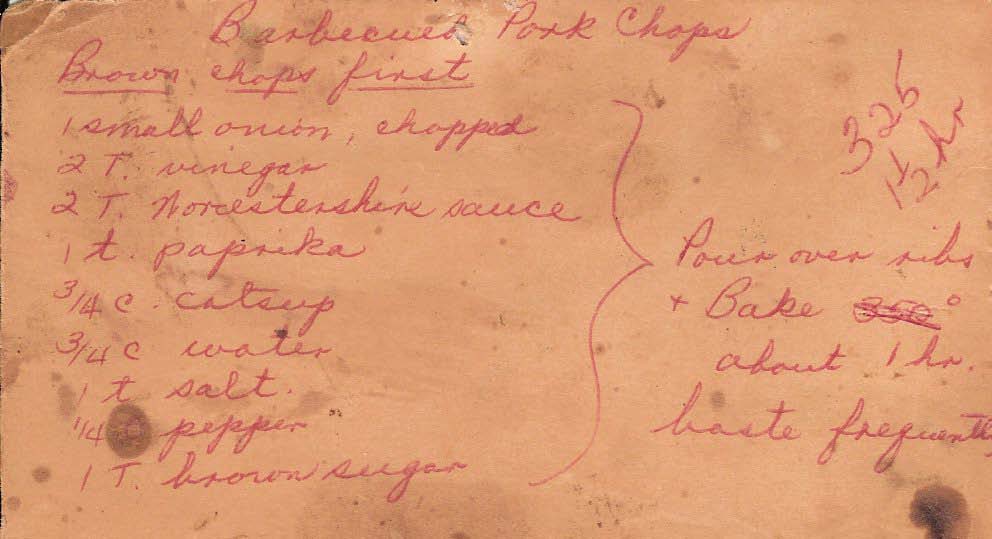 The recipe is pretty straightforward: brown some chops, top with a sauce, then cook in a low oven. I must admit that about halfway through the cook time, I became concerned because the sauce, which was thin when it was initially mixed together, was very watery from the juices in the meat. By the end of the cook time, it had reduced and thickened and was lovely.
One thing missing from the recipe was the number of chops. I used six, but only because that's what the package at the store was. The six fit nicely in my 9×13 pan. I know that my grandma had a nice large pan that was used for things like this, so it's likely she did eight or more so that everybody could have their own.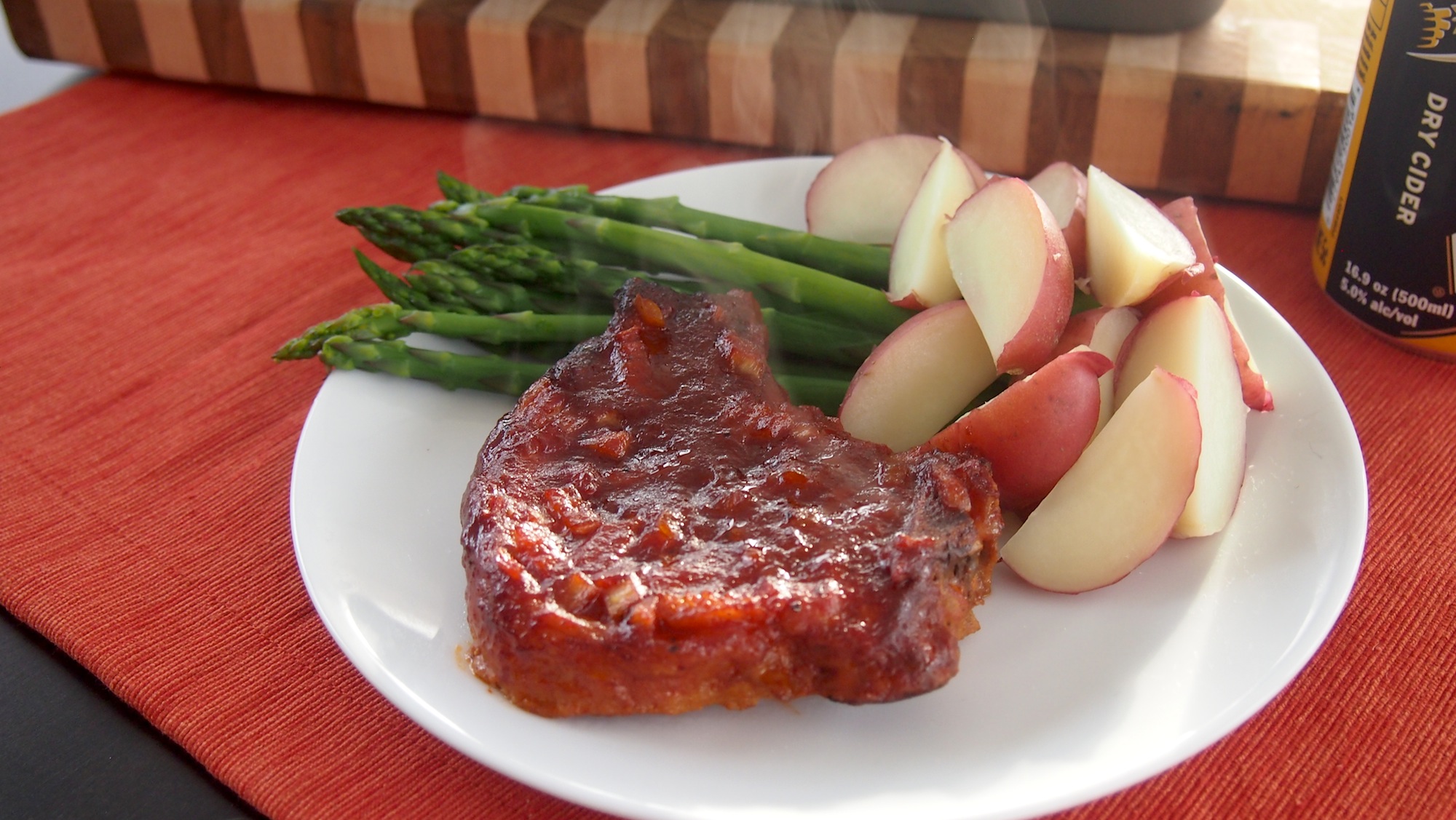 Barbecue Pork Chops
6 bone-in pork chops
Oil for pan
1 small onion, diced finely
2T vinegar
2T worcestershire sauce (I was out and used pickapeppa)
1t paprika
3/4c ketchup
1t salt
1/4t ground pepper
1T brown sugar
Directions
Preheat oven to 325°.
Brown chops with oil in pan then put in baking dish.
Mix together remaining ingredients and pour over chops.
Bake for 90 minutes, basting frequently.