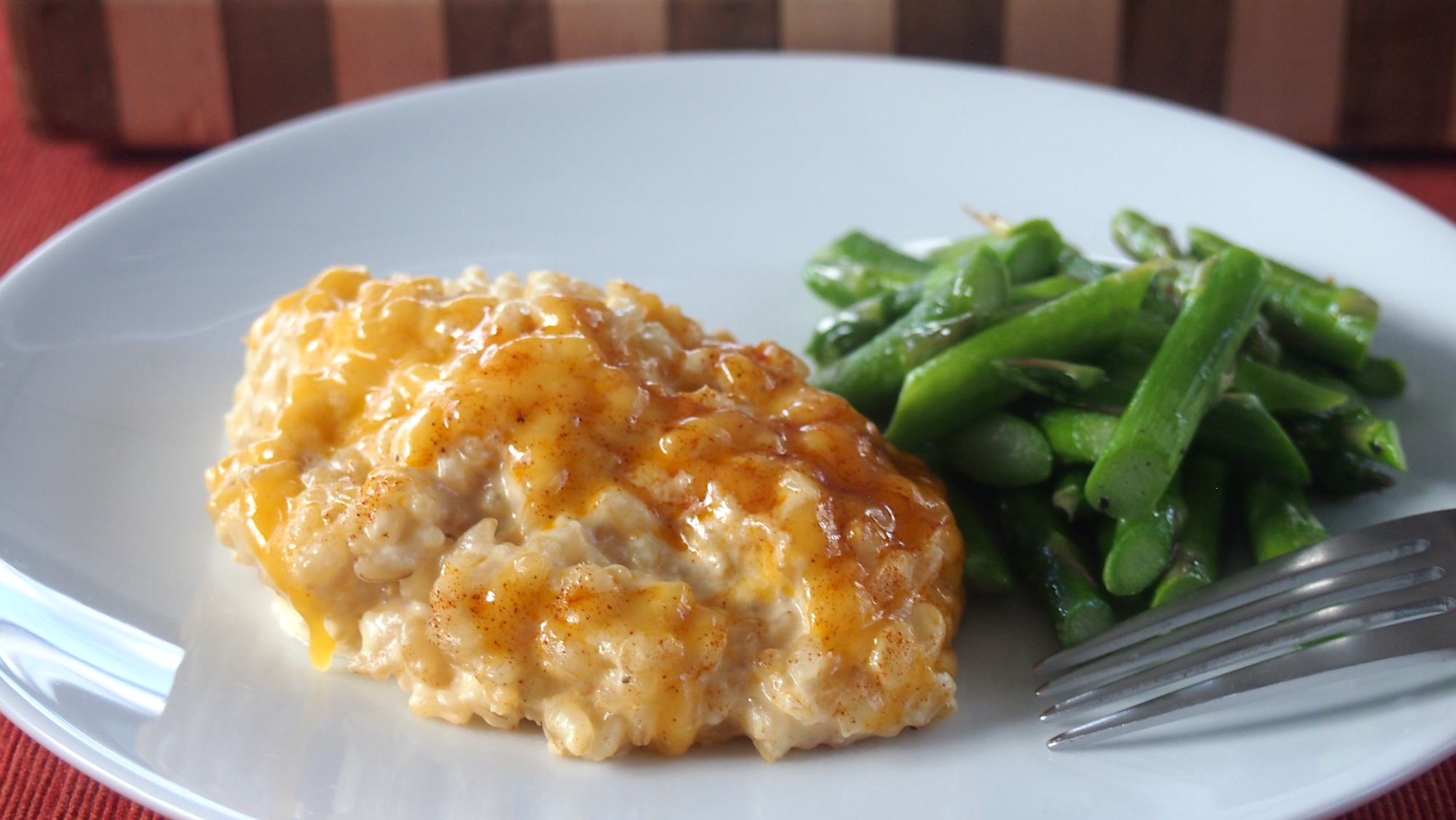 This is possibly the most controversial dish in my father's family. It was an invention of the days when meat wasn't to be eaten on Fridays. It seems a little strange to serve rice and cheese as a main dish, but it's quite similar to macaroni and cheese in that regard. So how is it controversial? I think people either loved it or hated it.
Says my Uncle Paul:
I think that Marie and I have the distinction of eating the last batch of cheesedish that Mother ever made. This was around the year 1979, 33 years ago. At that time, Marie and I were the only two children still living "at home".

One night Mother, Dad, Marie and I were sitting around the supper table eating cheesedish. Dad, quite calmly asked Mother why she had made cheesedish that day. This was just in a making conversation kind of tone. Mother replied that it had been a while since she had made it, so she just thought that she would, what with everybody always enjoying it so much. I think that Dad might have just calmly said something like "Oh". He certainly did not say it in a negative manner, but Mother must have picked up on the fact that it did not sound very enthusiastic , so she asked him about that. He quietly said that he never really cared for it very much. This really surprised Mother and she asked him why he had never said anything about that before, being as how she had made it many many times over at least a 20 year period.  He replied that everybody else always seemed to enjoy it so much that he did not want us not to have it !

I thought that that was really something, He had eaten it many times for many years, even though he did not care for it, because us kids liked it ! I am pretty sure that Mother never made it again.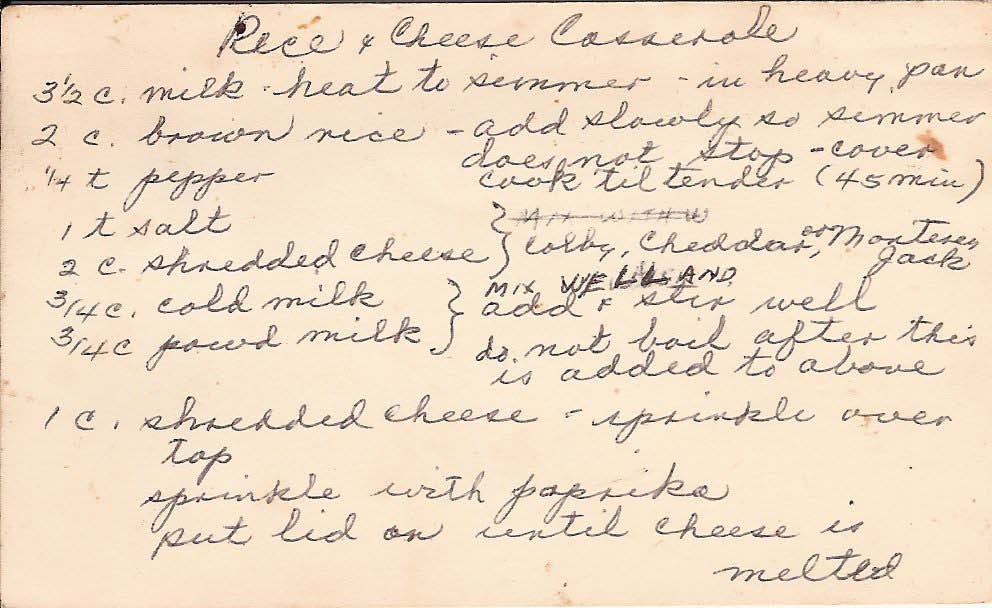 Although my dad was one in the "hate it" camp, when I made it for my family, it was an all-around success. The only thing I did differently was to omit the powdered milk. I'm certain it was included to add protein, but it's something that my tastebuds supertaste. (Seriously, I thought I didn't like chocolate until I was a teenager because I'd only had milk chocolate and most commercial milk chocolate is prepared with powdered milk…and I could taste it.)
This is a very straightforward dish. While my dad's family apparently ate it with cold applesauce on top, I think it just screams for a green vegetable. The asparagus looked good when I made this, so that's what we had. Peas, broccoli, or even a nice salad would work well, too.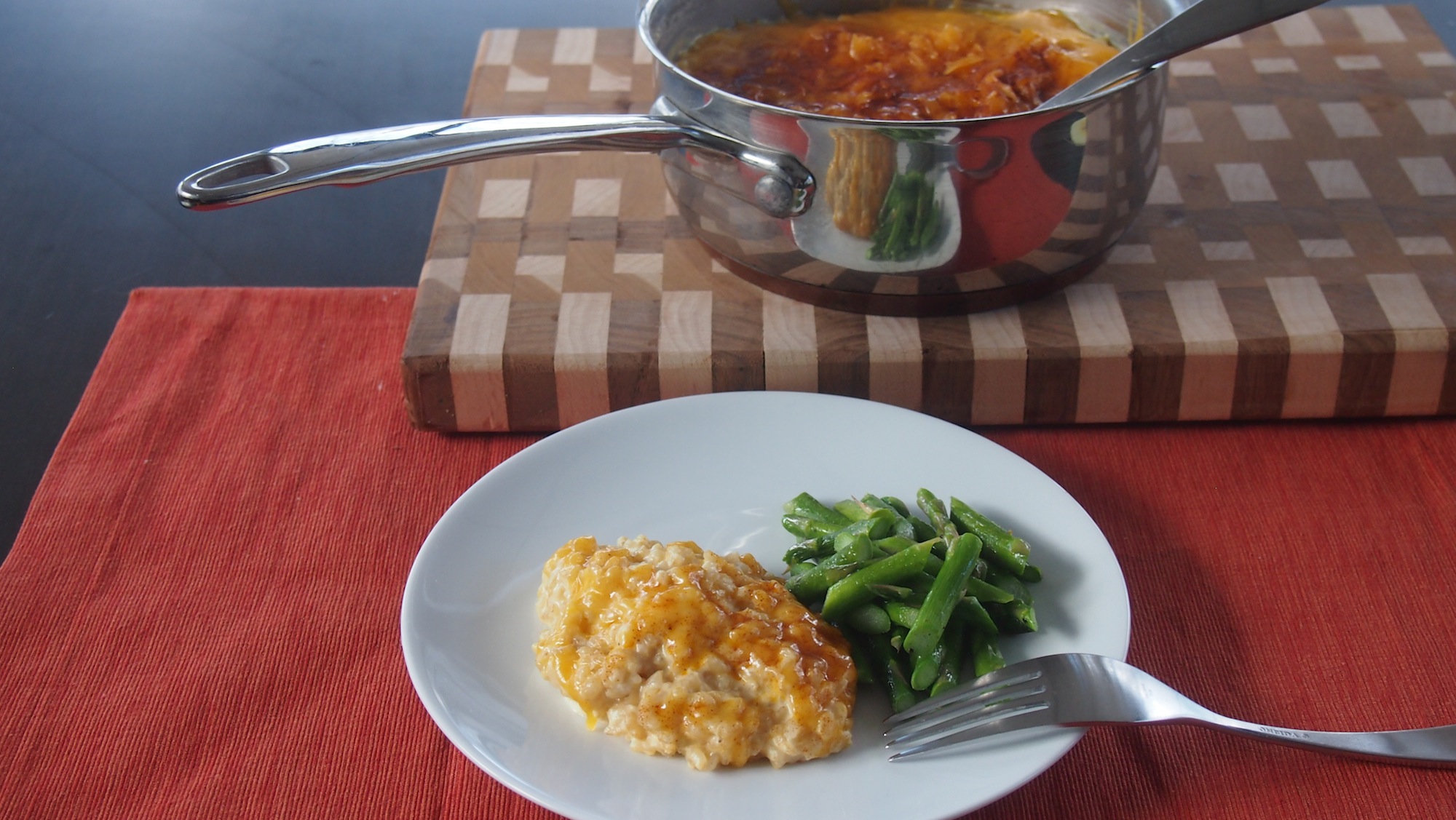 Cheese Dish
4 1/4c milk (divided)
2c brown rice
1/4t black pepper
1t salt
3c shredded cheddar cheese (divided)
paprika to sprinkle on top
Directions
Heat 3 1/2c of milk to a simmer in a heavy pan.

Gradually add rice (so that the simmer is maintained), cover, and cook until tender (aprox. 45 minutes).
Stir in 2c of shredded cheese and remaining 3/4c of milk. Make certain mixture does not boil after this point.
When cheese and milk is well incorporated, sprinkle remaining 1c of cheese on top and sprinkle with paprika. Remove from heat, cover, and leave until cheese is melted.