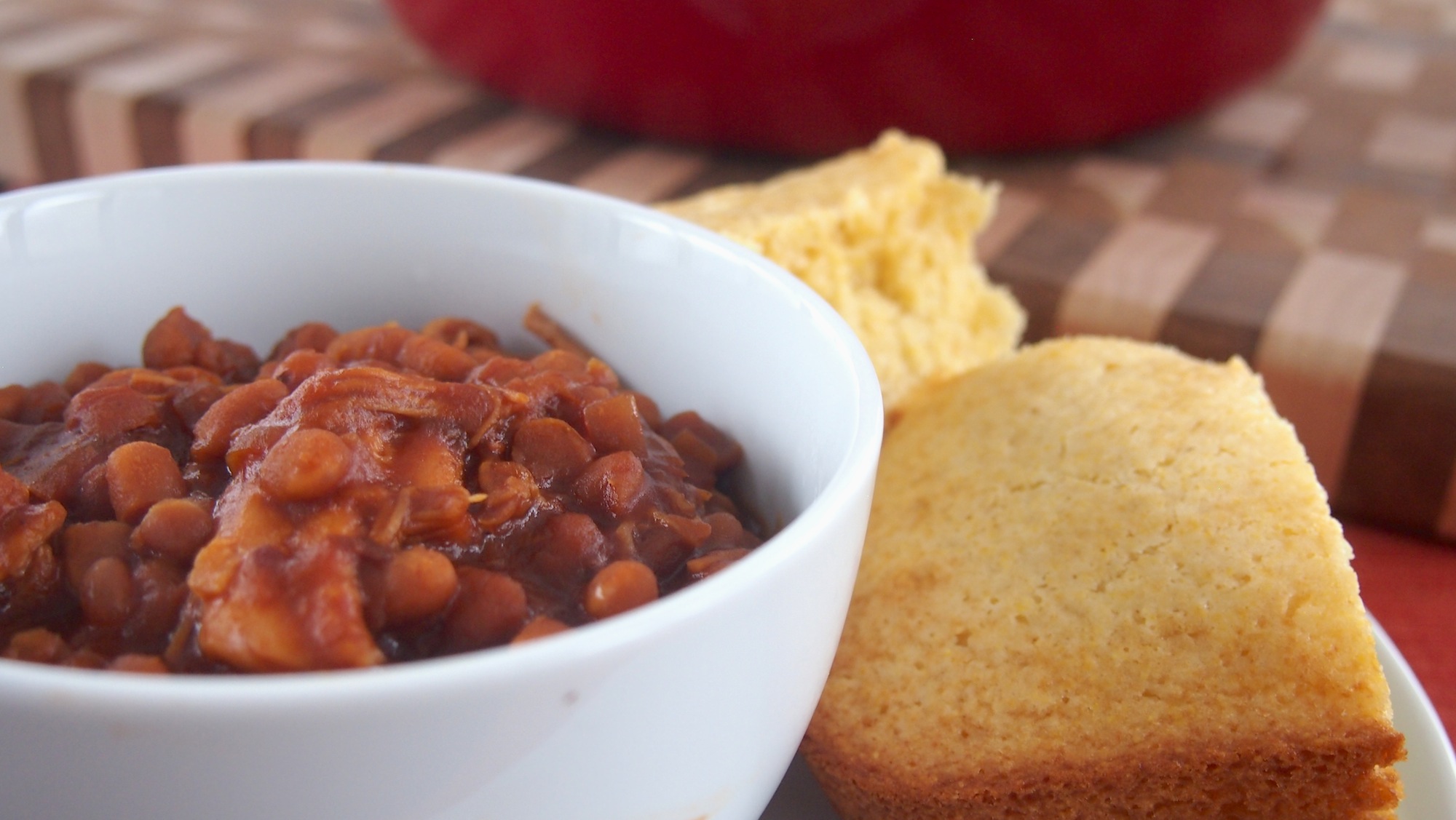 My mom's mom's mom (my great grandmother), Lola, was born in 1882 and was apparently a rather good cook. It's difficult to imagine how she got most tasks done that seem simple to me today. The whole landscape of cooking was different. Different ideals of health,  different availability of foods, different tools. So I'm fairly confident, despite what the recipe I have says, that the original method for her famous baked beans didn't involve a slow cooker. It's far more likely that they were put in a low oven all day.
As far as them being famous…I'll leave that for my grandmother to explain (from her memoirs):
Somehow my mind turns to Hobo Day. State's homecoming, a grand time for many social activities right through my early childhood to beyond my college years. During that weekend, there was always a crowd of people visiting or popping in, all wanting to be fed. Mama was just the lady to fill that bill. Actually, I think many guest just used Hobo Day as an excuse to partake of Mom's super special home baked beans. Mom always had a huge roaster full in readiness. "Lola's beans" had a far reaching fame. Pies were another specialty. I remember the year that Mom put two lovely pumpkin pies on the icebox top in the back entry way to cool. When she went to get them later, they had disappeared. To explain; part of the annual craziness of Hobo Day was the custom of the college students who dressed up like hobos to go door to door begging for brown bags of food. All townsfolk willingly complied and provided lunches in those bags, fearing retribution if they ignored the custom. Sort of a collegiate "trick or treat". Any unattended food around the back door was fair game for the "hobos". Of course the creep who took the pies had to open the garage door to get the pies. We always felt it was an inside job, as college kids coming near us had heard of Mom's reputation in the culinary arts.

Besides the inevitable baked beans and mince and pumpkin pies, there was another roaster full of ducks or pheasants done to a turn. There was also chili sauce for those who spiced up their beans. All foraging for food by the collegians had to take place before 12 noon sharp; after that it was plain and simple thievery. The big homecoming parade scheduled about 10AM or so, drew all the townspeople downtown to watch, so the most avid hobos had a pretty much free rein during those hours. People in Brookings never locked their doors, you see. The parades were great. There were several bands, marching units and gorgeous floats covered with pretty girls and sometimes, even late flowers. Hobo Day was always (and still is) held in October.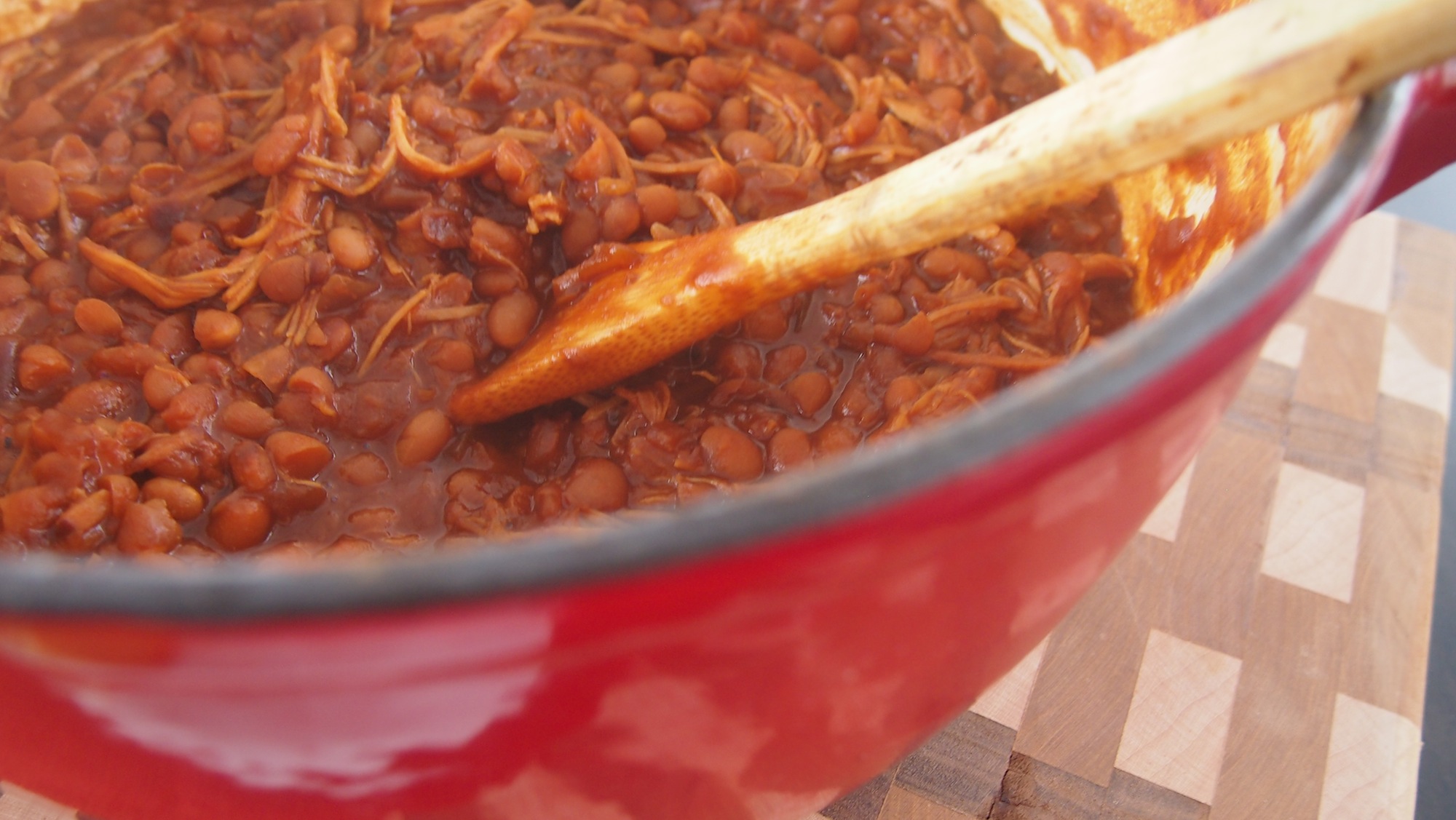 Since she died before I was born, I never had the chance to eat beans of her making. I also don't have memories of her daughter (my grandmother) making them.  The only time I remember eating them was when my Uncle Jim made them for the rehearsal dinner for my Aunt Kathy and Uncle Bruce's wedding. They were fantastic.
I've had quite a few failures making them myself. Since the recipe just says "lean pork," I've made mistakes with that. The first couple of times I tried it, I just got some chops and cut them into small pieces. That resulted in dried up little bits of meat. Horrible. I also can't seem to get the right amount of water (I've had both too little and too much). One time, I used beans that must have been old because they never softened. At all.
This time, I did far better. It came to me in a flash one day that the lean pork must have been a sizable chunk that was slowly cooked with the beans and then shredded into them when done. I found a two-pound ham roast (also called "fresh ham") that worked beautifully. My mistake this time around was too much water in the slow cooker, but that was remedied by some time in my heavy enameled cast iron pot on the stove top. The beans were very good. I just wish I knew what was in the "chili sauce" that was apparently served with them.
We made a meal of the beans by baking up some cornbread. My husband's mom is from the south, so I thought she might have a solid cornbread recipe to add to the pile, but he just remembers her mixing up a batch from a box. My mom's cornbread was not to my liking, so I just made it from a box. Does anybody have a great recipe for cornbread that is light and sweet and not gritty?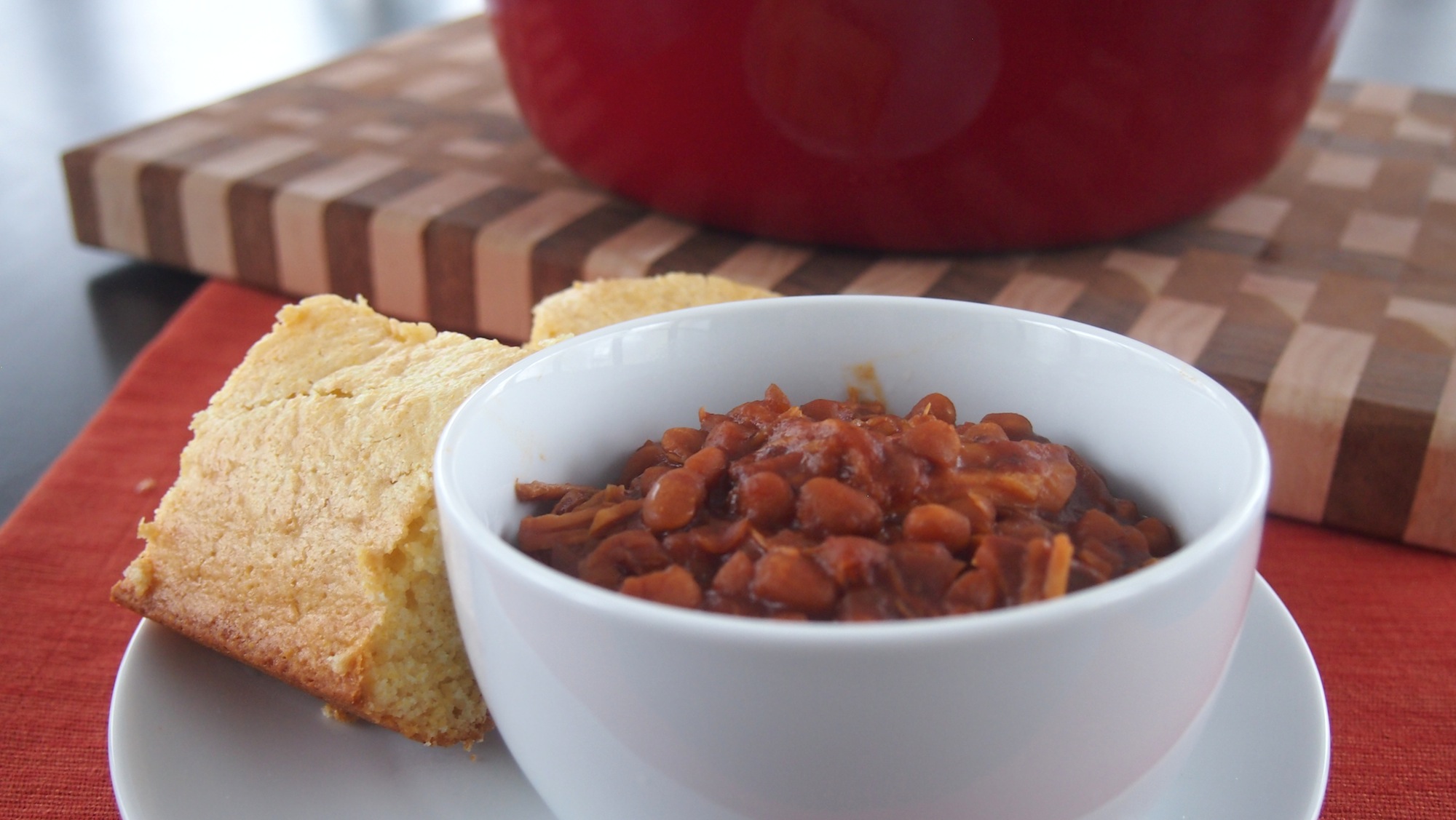 Lola's Famous Beans
1 pound navy beans (picked over, rinsed, and soaked overnight)
2 quarts water
2# lean pork roast
1 large onion, chopped
1c ketchup
1/2c molasses
1/4c brown sugar
1T dry mustard
1/4t ground ginger
1/4t ground pepper
Directions
Put everything in a slow cooker and cook all day (if you have too much liquid, put in a pot on the stove and simmer until desired consistency).